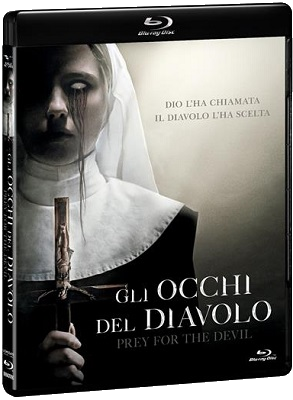 Scheda:
Titolo originale: Prey for the Devil
Data di uscita: 2022
Genere: Horror / thriller
Regista: Daniel Stamm
Cast: Jacqueline Byers, Colin Salmon, Christian Navarro, Lisa Palfrey, Nicholas Ralph, Ben Cross, Virginia Madsen, Tom Forbes, Velizar Binev, Owen Davis, Debora Zhecheva, Cora Kirk, Posy Taylor, Elizabeth Gibson
Paese di Produzione: United States of America
Durata: 93
Produzione: Lionsgate, Gold Circle Films, Confluence Productions

Trama:
Il Vaticano ha riaperto in segreto una scuola di esorcismo dopo l'aumento dei casi di possessione demoniaca. L'esorcismo è permesso solo ai sacerdoti e nulla può fare la giovane suor Ann, convinta di avere una vocazione particolare per scacciare il demonio. L'unico a riconoscerle il dono è un professore, che decide di farle da mentore. Ben presto, Ann si ritroverà a dover combattere contro una potente forza demoniaca, legata al suo traumatico passato.

Nome versione:THE KING
Fonte video: BDFULL
Fonte audio: WEB
Tracce Audio:AC3 ITA-ENG/E-AC3- ITA
Sottotitoli:ITA -ENG
FORCED

Info:

Show/hide text

Show/hide text

Per scompattare i pacchetti usare Winrar 5
I File rev servono come recupero di informazioni nel caso winrar vi dica che avete un archivio danneggiato o file mancanti e non riesce quindi a scompattarli.A questo punto usate i file rev. "Ma prima cancellare i file corrotti". Una volta cancellati schiacciare su uno dei rev "preferibilmente il rev 1 e vi correggerà questo errore potendo così scompattare senza dover riscaricare il tutto nuovamente.
IN CASO DI FILE OFFLINE,NON ESITATE A CONTATTARMI TRAMITE PM

Cliccate sul bannerino per abbonarvi a Easybytez